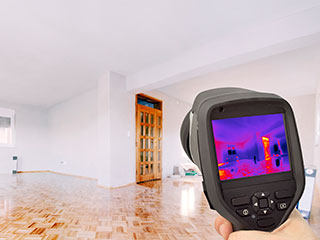 Customers can expect a lot from the air duct cleaning services of our company. Improving your indoor air quality is our top priority. We also aim to reduce your energy spending by making sure your HVAC unit is as efficient as it can be. We offer air duct seal repair, and thanks to our many years of experience, we are proficient in evaluating the condition of our clients' ductwork in order to offer them an affordable solution. Our cleaning services are not limited to ducts and HVAC systems. We also handle dryer vents, as well as the vents of kitchen exhaust hoods. We clean the filters, the ventilation system, and the condenser unit. You can rest assured that every single one of our services is carried out by experienced specialists with complete dedication to your satisfaction.
Residential Air Duct Cleaning
There may be many different air duct cleaning companies out there, but we believe that our experts offer a personal touch by being both very friendly and highly professional. Our residential services deal with water damage, air vent cleaning, air value testing and many other things. Your indoor air quality will be greatly improved after we're done.
Commercial Air Duct Cleaning
We truly do our best when catering to our various commercial clients by guaranteeing fast and efficient air duct cleaning, keeping discretion foremost in our thoughts. We know that you want your employees and customers to breathe the cleanest air possible and we can provide that for you. Both your employees and customers will appreciate this, and your productivity will be bound to increase. From restaurants and laundromats and everything in between, we can take help every business owner optimize the work environment of their business.
Dryer Duct Cleansing
If you've ever been around a clothes dryer you surely can imagine how much lint can get stuck in its vents. It is a considerable fire hazard so you should get it cleaned on a regular basis. Our dryer vent cleaning service specialists can do this for you. By removing all the lint and debris that accumulate in its vent, your dryer will operate much more efficiently, and will be a lot safer to use as well.
HVAC Unit Cleaning
Our HVAC cleaning services have become quite popular. So much so, that our specialized team has practically become renown throughout all of California. Our highly skilled experts can clean fans and heating coils to perfection, and we can replace the unit's filter when it becomes too worse for wear.
Make sure to contact our experts at Air Duct Cleaning Calabasas to get the professional service you deserve for a price you can easily afford.
The Best Service Provider Around:
Highly Skilled Specialists
Strict Sanitary Standards