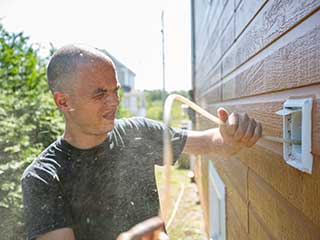 What Should You Look For?
There are a few easy ways to tell whether it's time to get your dryer's vent cleaned! If your energy bill has been rising slowly over time with no indication in particular as to why, it may be because of the choked-up vent. Another indication of this is if it's taking much longer than it used to dry your clothing. Should you be able to see the vent itself, it will be fairly noticeable with lint and other substances stuck in the slots. The biggest concern would come from a burning smell, in which case you should shut your dryer off immediately and refrain from using it until it's properly cleaned.
Why Does It Matter?
A dirty dryer vent can cause a lot of problems, namely that it's a fire hazard. The lint trapped in it can begin to melt and burn because of the hot air, and from there spark a full-blown flame that can spread and cause a lot of damage. Another issue is that of energy spending, as it's much harder for the air that's needed to dry your clothing to get through the blocked vent, so more energy must be used. Your clothes will also likely take a beating from this extended cycle and will wear down more quickly. It's best to protect against all of this and simply get your duct cleaned!
We're Here To Help You!
Our technicians are ready to get to work at a time that most suits your schedule and will be in and out before you know it! However, this will never be at the cost of a job well done. We'll use the best tools available to ensure that your dryer's duct is completely cleaned out and like new again, all while keeping any of the materials from entering your home's air to keep things safe.
Contact Us Today!
Air Duct Cleaning Calabasas is ready to get to work making sure that your dryer's duct is safe and efficient once more! Call us now.