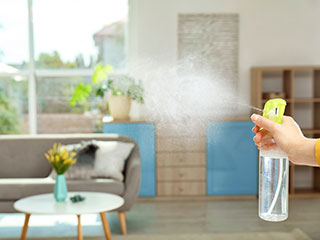 Repeated exposure to dust, mold, and other contaminants can compromise the health of your home. Whether it's air quality testing, ductwork cleaning, or maintenance that you need, you can be sure our team will handle it. In fact, problems with the air inside your Calabasas air ducts can have severe repercussions. Children, the elderly, and those with allergies are especially at risk and may suffer from this exposure to poor air quality. With help from local HVAC cleaning technicians, you can optimize indoor air quality and ensure you're breathing fresh and clean atmosphere. Airborne pollutants inside your residence or place of business can create poor indoor air quality, which leads to stuffy feelings and potentially even respiratory issues.
Significance of Air Quality Indoors
When airborne particles enter the atmosphere, they're also entering our lungs. Outside, we're continually exposed to an ever-changing air composition, but in our homes, we breathe the same air all day and all night. If anything nasty has gotten into and harmed our indoor air quality, it will be passing through our lungs over and over again. Therefore, even small amounts of any pollutants have the potential to cause health problems. From pollens to pet dander, all sorts of airborne contaminants can agitate and exacerbate allergies. A significant amount of dust in dirty air ducts will make the indoor air quality feel very poor as soon as you enter. While spending time inside the property may let you ignore or forget about the stuffy feeling, as soon as you leave for a bit and come back you'll notice it. And so will new customers and guests.
Causes of Poor Indoor Air Quality
There are many ways for unwanted particles to enter the atmosphere; dirt and debris can build up in air ducts, which are then circulated around the property. Mold can release spores into the air, causing huge problems for anyone with asthma, and potentially spreading fungus widely. Animals shed hair too, which can end up circulating through our breathable air. Some of this is unavoidable and people are perfectly able to handle a certain level of pollution in their air. However, it's important to realize when this reaches dangerous levels. Dirty air ducts continue to circulate contaminants inside your Calabasas property. Whether it's a home or a business, noticeably poor indoor air quality can cause problems. At best, it reflects poorly on you.
Testing Air Quality To Check Contaminants
You'll not always be able to notice that the air quality in your home has become polluted; you usually won't know until people start suffering the health effects of it. Rather than waiting until then, it's a good idea to conduct a home air quality assessment. Our professionals will assess your property's air for signs of mold, dust, particulate matter, cleaners, lead-based paint, and other potential health hazards. It's a good idea to have the air quality indoors tested to verify and sample the average amount of pollutants inside. This can let you know how often you need to have the air ducts cleaned, filters replaced, and so on. Remember poor air quality often also signifies restricted airflow, which translates to higher energy spending.
Get Air Ducts Cleaned By Calabasas HVAC Experts
Your health and that of your family is too important to leave it up to chance. If you suspect the air quality inside your home or place of business is on a downward spiral, have our Calabasas HVAC cleaning technicians vacuum the air ducts. We replace air filters, repair air duct leaks, and clean dryer vents as well. So call for any HVAC and air duct cleaning services you need for residential or commercial properties.